There are several ways of measuring the page speed load times and performance of your WordPress site and hosting solution. We don't have any statics on the subject, but we believe that GTmetrix, Pingdom and Google PageSpeed Insights are the most popular ones, so we'll start off with those, and we'll finish off with three lesser know alternatives.
In this article we will look closer at the following page speed performance and testing tools:
We do recommend that you use at least two or more of these alternatives while checking your site and hosting performance, as they can give different insights to what your site might benefit from in terms of load speed.
If you are not logged in to GTmetrix then you will only have the ability to run the test from the server in Canada. If you register and log in then you will get a lot more options to play around with. You can select from where in the world you want to test your site from; the U.S, China, the U.K, India, Australia or Brazil.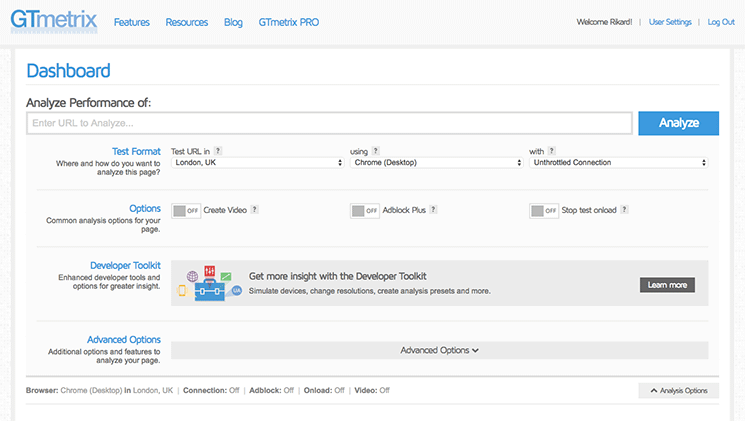 You also have the option to select different browsers (Chrome or Firefox), and which connection the test should simulate. It ranges from 56k dial-up to no speed limit. There are also options for recording videos of the test, turning off ad-blockers, and to add authentication if the site is password protected.
Some features like monitoring from other servers than the one in Canada are only available in the PRO version, you can see what is included and the pricing here.
Test scores
Once the test has finished running then you will be presented with the scores. GTmetrix goes into great details as to what is loading and for how long in the result, and they give you detailed instructions on how to improve load times as well.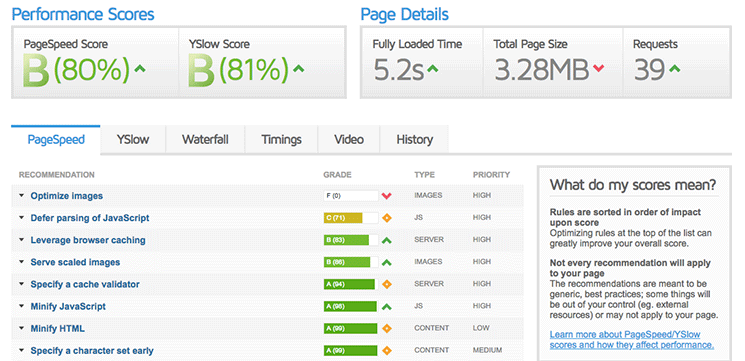 GTmetrix summary
GTmetrix is our go-to service when it comes to page speed optimisation, there's no real point in going anywhere else except for confirming your results. We do recommend that you still check in other services as well, either to verify the results your are getting or for other insights.
Pingdom is a website performance test tool which provides clear and understandable results. We use it mainly due to their easy-to-follow waterfall of what is being loaded and for how long on a site, and for the graphic presentation of the groups of content which are being loaded on the site.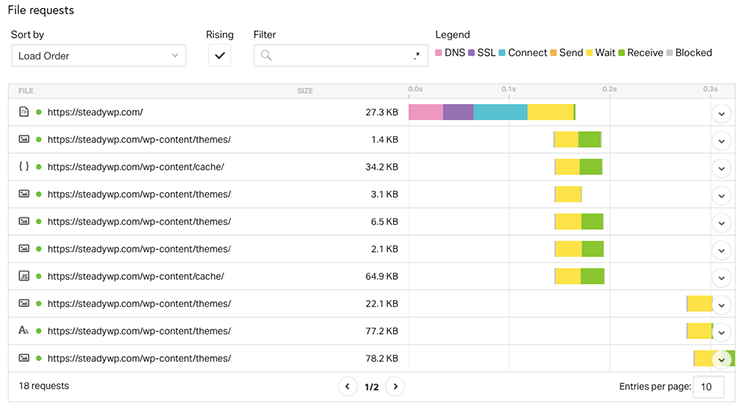 Test scores
Tests on Pingdom can be conducted from Asia, Pacific, Europe, North- and South America. Once the test has finished you will first see an overall rating of the performance of your site and how long it took to load.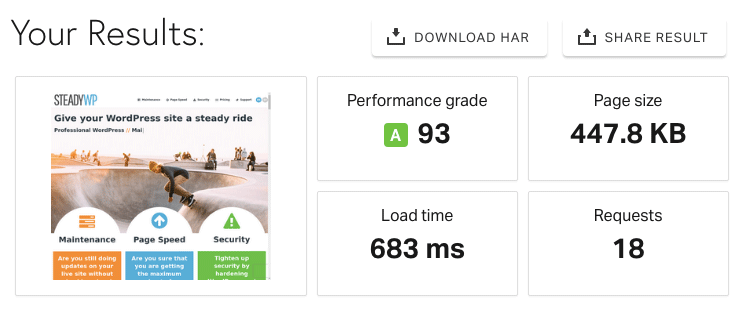 Pingdom summary
Pingdom is a very good page speed and site performance testing tool, it provides clear and understandable results which can easily be interpreted. It does lack some details which you get with a tool like GTmetrix though.
Google Page Speed Insights uses Lighthouse, which is an automated open-source tool which aims to improve the quality of websites. You can run it against any type of web page, public or one which requires authentication. It has audits for performance, accessibility, progressive web apps etc. Lighthouse analyses sites on an emulated mobile network.

Test scores
Unlike GTmetrix and Pingdom, Google Page Speed Insights does not offer a location where the test should run from, we are guessing that this is due to the fact that the tests are performed on an emulated mobile network. It also does not include any load times on resources from the tested site, it does include times on how your site behaves during the initial load though.

Google Page Speed Insights summary
Google Page Speed Insights is a good supplement to GTmetrix and Pingdom as it can reveal further details on what could be improved when it comes to load times and performance on your site. It's also an interesting test when it comes to SEO; as we all know, Google is by far the largest search engine on the web. A site which performs well might gain advantages in ranking compared to competitor who perform worse. We will explore this topic further in a later post.
Uptrends is a lesser know page speed test which also offers the option to test your site from several different locations in Europe, the US and Asia. It also gives you the option to select to test your site on array of different mobile devices, and different browser on desktop. The test results are easy to follow and they provide good insights on how to fix the indicated problems.

Test scores
The test scores from Uptrends are presented in a well organised graphical manner and include recommendation on what could be improved on the site, along with pie-charts representing what is being loaded on the site, and a waterfall graph representing the load times for each file. The test also includes scores from Google PageSpeed Insights so you don't have to make two trips for that score.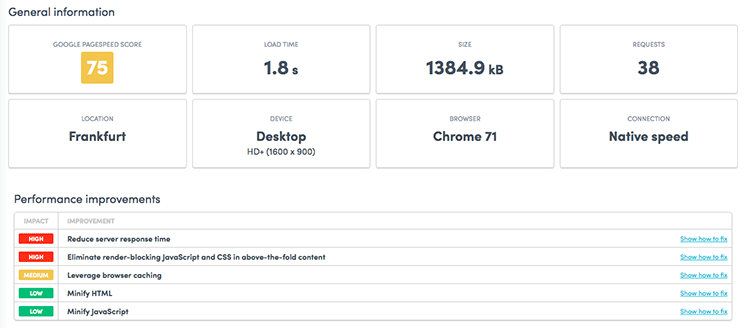 Uptrends summary
Uptrends is a great alternative to the first three testing tools and could potentially provide further insight as to what could be done to improve your load speeds even further.
Bitcatcha Server Speed Checker is a handy tool which checks response times when calling the server which your site is hosted on. The test runs from ten different locations (East and West U.S, London, Singapore, Sao Paulo, Bangalore, Sydney, Japan, Canada and German).
Test scores
Each test is executed three times to produce a median value, which is then presented in the test results. After the server response times are recorded from the test servers, they are benchmarked against Google's recommendation – 200 ms – and the results are assigned a rating based on that.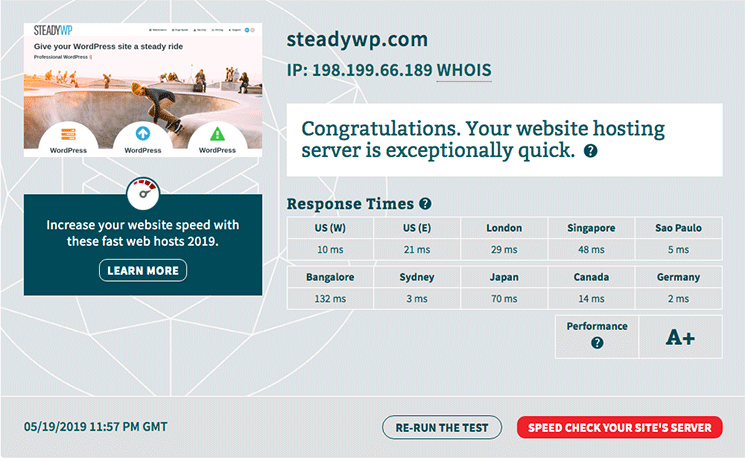 Bitcatcha summary
Bitcatcha is a great tool for checking your server response times from different locations across the globe.
The WP Speed Fix testing tool gives you the option to test your site and server from three different locations (US, UK and Australia). The graphical interface resembles Uptrends and Pingdom a bit and is clear and well structured.
Test scores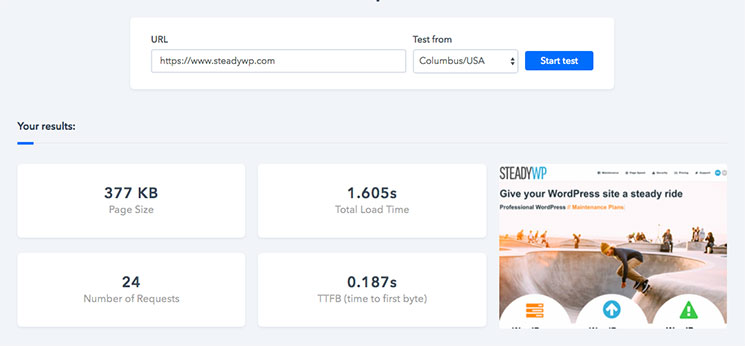 WP Speed Fix includes a lot of information in the test results and it might be the most detailed test of all the tools in this article. The screenshots only show a fraction of the information included in the actual test.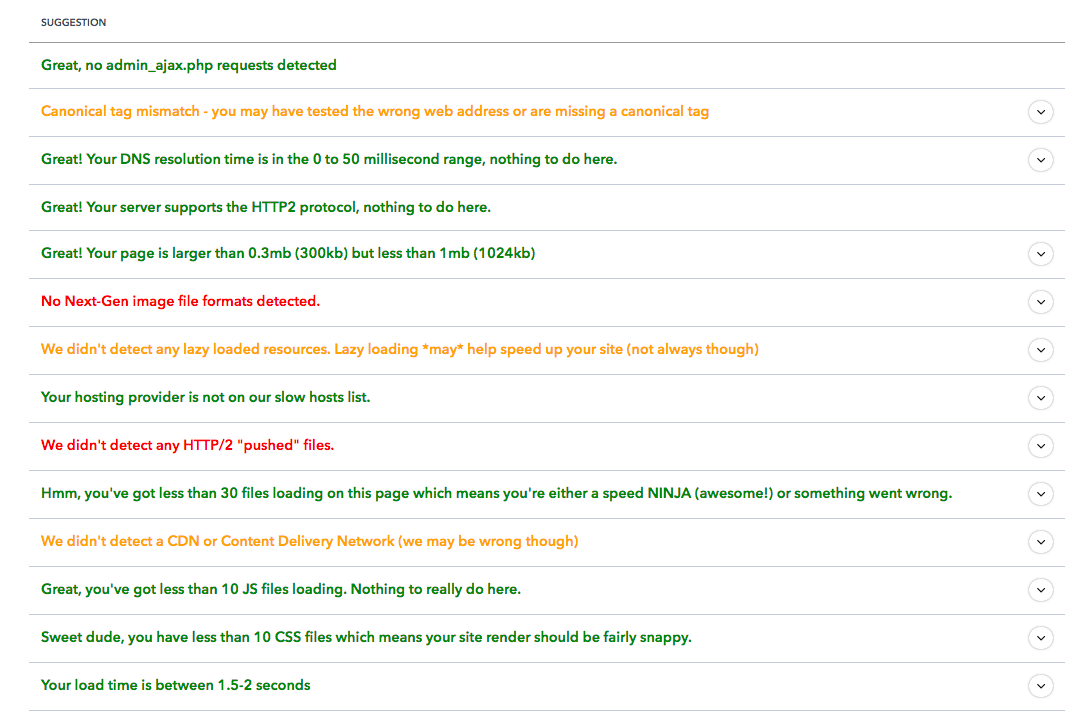 WP Speed Fix summary
Very detailed and well structured test which can complement or even replace the other testing tools in this article.
Summary of tools for checking WordPress performance and page load speed
The load speed of your site won't automatically get your site to a top position in search engine result pages, but can help for sure. One benefit your visitors or customers will get by good load times is a better user experience, which in turn will likely lead better conversions on your site.
All the tools listed in this article will likely vary in their test results, the reasons for that would be out of scope for an article like this. All we can do is to recommend that you don't stare yourself blind on one test and a single tool. Use all or a few of them and try to get a broad picture of how your site is performing speed wise.