The most important thing about speeding up a WordPress installations is, you guessed it – the actual speed your site loads at. A lot of people seem to forget this simple but important fact, and stare blindly at scores from for example Google Page Speed Insights instead.
When speeding up a WordPress installation, the most interesting statistic is the actual time it took for the test to load your site – what resources were loaded – how long it took for them to load – and where the test ran from. Google Page Speed Insights does not reveal this information to you unfortunately.
What does Google Page Speed Insights actually measure?
Google Page Speed Insights rates your site according to what Google thinks are best practices, not necessarily what is common WordPress- and general web development best practices. If you have a look at the test result page on Google Page Speed Insights, you will see no data which mentions actual load speeds: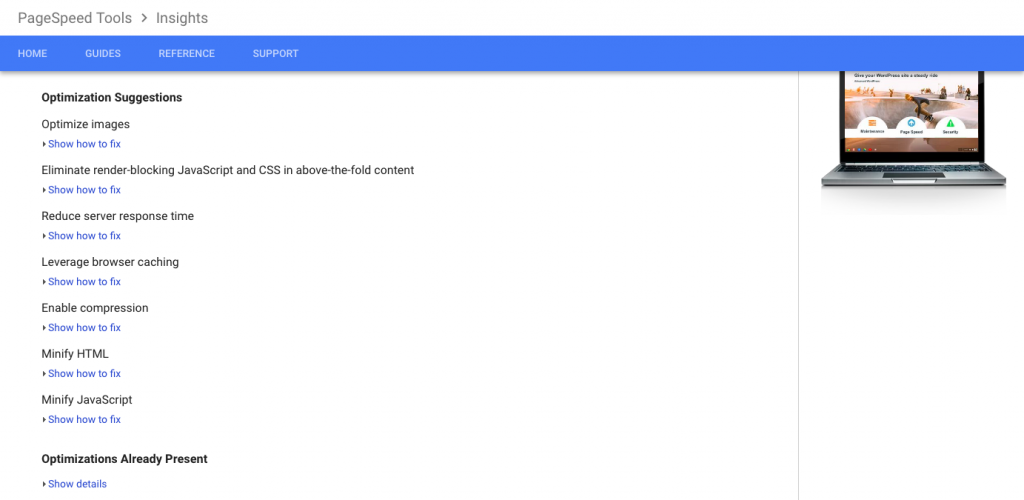 Google will analyse and rate your site according to their best practices, not only for the actual speed of the site:
A high score is correlated with a fast user experience but does not guarantee it.
We're not saying that you shouldn't aim for a high score in Google Page Speed Insights, or that their suggestions are wrong. We are saying that you shouldn't give too much attentions to details in their test – try to focus more on the actual speed of the site and a good user experience.
If users perceive your site as fast and if you have content they are interested in, then you will have a successful site – even if it doesn't score perfect on Google Page Speed Insights.
Alternatives to Google Page Speed Insights
If you want to know the actual speed your site loads at in a test, then we would recommend that you use one of these services instead of Google Page Speed Insights:
We prefer to use Pingdom due to their easy to follow suggestions and waterfall display of load times for all resources, though we recommend to use other services as well since they all provide good insights when speeding up WordPress sites. Users have the possibility to chose where the test should be conducted from on Pingdom (Asia, Pacific, Europe, North- and South America ), and you get a rating of the overall performance of your site.
GTmetrix is more detailed than Pingdom, but the user interface is less appealing to use compared to Pingdom. You don't get an option where to run the test from unless you are signed up and logged in, by default the test will run from Canada which might not be all that good for european sites for instance. If you are logged in you will have the option to run the test from the U.S, China, the U.K, India, Australia or Brazil. Overall GTmetrix is a very useful and stable service.
Uptrends is a lesser know page speed test which also offers the option to test your site from several different locations in Europe, the US and Asia. It also gives you the option to select to test your site on array of different mobile devices, and different browser on desktop. The test results are easy to follow and they provide good insights on how to fix the indicated problems.