Give your WordPress site a steady ride
Professional WordPress
Maintenance
Are you still doing updates on your live site without checking visual changes?
Updating can be a dangerous process and should be done on a staging version first, along with automatic checks for visual and backend changes.
Get a steady site today »
Read more about Maintenance »
Page Speed
Are you sure that you are getting the maximum speed out of your site?
Page speed is very important for a number or reasons; your SEO greatly depends on it, and users will likely leave your site if it doesn't load fast enough.
Get a faster site today »
Read more about Page Speed »
Security
Tighten up security by hardening WordPress and adding security plugins.
Having an updated version of WordPress and strong passwords should be enough to keep your site safe, though extra messures can sometimes be necessary.
Get a safer site today »
Read more about Security »
Professional WordPress Maintenance
Updating is a risky process on production sites
Updating WordPress, plugins and themes can introduce errors and issues, or even cause your site to go offline.
Broken sites cost time, money and energy
Is it worth the risk to not maintain your WordPress site properly?
Safety first, perform and check all changes on a staging site
Our updates process is all about detecting changes to avoid any surprises on your production site.
How we keep WordPress sites steady on updates
Clone production site to a temporary location or use an exact copy on a staging site
Screenshot entire cloned site to be able to compare it to the after state
Run automated backend functionality tests to ensure everything is working before we begin updates
Update WordPress, themes and plugins on staging site
Run backend functionality tests again to ensure functionality after updates
If everything checks out on the staging site then the same process is applied on the production site
This method is by far the most safe and secure way to update your production WordPress site. It will detect any changes on the frontend, and backend problems will be discovered by a combination of automated and manual tests.
Compare the before and after state visually after updates to check if anything has changed on the front end.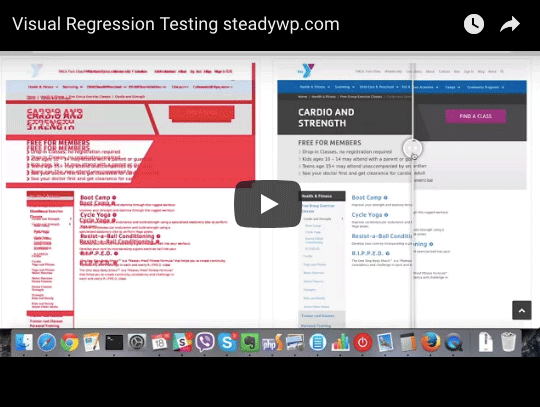 Click to watch on YouTube »
More about Visual Regression Testing »
---
Run automated tests to ensure functionality on the backend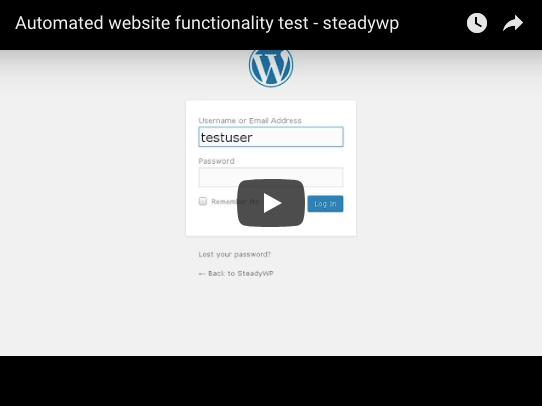 Click to watch on YouTube »
WordPress Page Speed & Technical SEO
Examples of our past WordPress Page Speed work
Furniture site
Before:

After:

Reduced load time by >50%
Reduced page size by almost 50%
Total requests down from 135 to 22
Visa legal help site
Before:

After:

Reduced load time by >250%
Reduced page size by almost 50%
Total requests down from 175 to 28
Recipe site
Before:

After:

Reduced load time to under 1 second
Reduced page size by almost 250%
Total requests down from 160 to 25
WordPress services pricing
Customers and testimonials

My sites have been running very smoothly since handing over maintenance to SteadyWP. I no longer wake up noticing my website is down, and the peace of mind is just great.
- Ian A.

Great team who can solve most WordPress problems. They developed a new site for us and we're very happy with the results.
- Trond G.

Great WordPress speed up service, they managed to cut the size and load time of my client site in half. I can really recommend that!!!
- Peter M.
Not sure what you need or do you need something additional?
No problem, get in touch with us below and we'll have a look at your site to determine what needs to be done or give you a quote for your extra requirements, free of charge of course.
Get a quote today
Ask us a question or submit a support ticket
Latests posts from the blog